America's most impressive ten city skyline (on)
Author:July
Source:www.diecastingpartsupplier.com
Release on:2016-08-09
There are hundreds of skylines in the United States that leave lasting impressions. This list names the top 10 most impressive based on the number of skyscrapers within the city limits, which reach a minimum height for maximum visual impact of 300 feet. These skylines are in a league of their own and contain a variety of skyscrapers that would draw the attention of any casual onlooker. There is a certain wow factor one experiences when entering a city with a skyline such as this. Seeing the sheer scale of man's innovation while maneuvering toward and through the steel and concrete canyons makes us realize just how small we are and ultimately takes our breath away.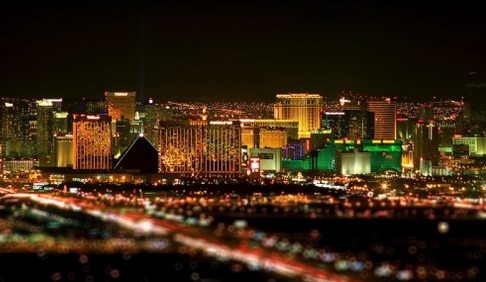 Sin City topped other behemoths like Boston and Seattle, not by height, but by sheer quantity. With 63 structures that meet the standard height of 300+ feet, the Las Vegas skyline shines bright above 91 others in the nation. The Palazzo at 642 feet, the Encore at 631 feet, the Trump International Hotel and Tower at 622 feet, Wynn Las Vegas at 614 feet, and New York, New York at 529 feet are some of its more notable skyscrapers. These massive casino/hotel towers don't resemble traditional skyscrapers but the skyline they create cannot be denied. The Las Vegas skyline may not fit the mold, but it is still a magnificent site to see. Other structures that add to its prominence are the Stratosphere Observation Tower at 1,149 feet and the Fontainebleau Resort Hotel, which although incomplete, has been topped out at 735 feet.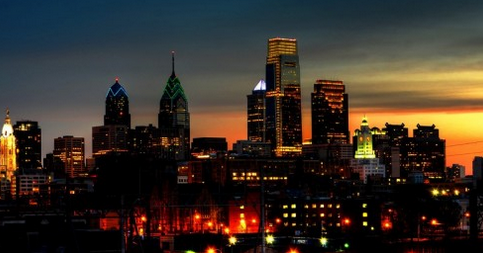 The City of Brotherly Love boasts an awesome spectacle for a skyline, wowing any onlooker who turns that corner on I-76 and gets their first glimpse. Coming in at #9, it has 78 structures that meet the standard. Its most notable skyscrapers are the Comcast Center at 974 feet, One and Two Liberty Place at 945 feet and 848 feet, Mellon Bank Center at 792 feet, and Bell Atlantic Tower at 739 feet. The twin towers, One and Two Commerce Square at 565 feet each, also add a nice touch. Philly had a gem in the works with the planned 1,500 foot tower American Commerce Center, but what would have been the 2nd tallest building in the nation was cancelled. Several new skyscrapers are under construction though with one, the Comcast Innovation and Technology Center, having a planned height of 1,121 feet. Philadelphia is definitely on the rise.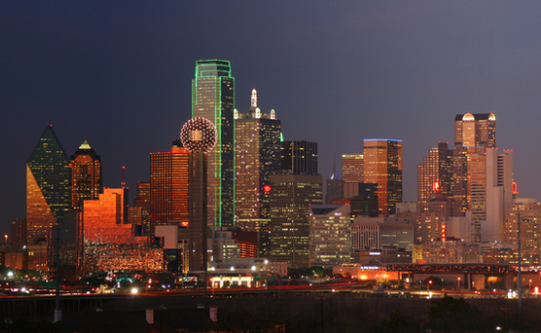 The 2nd largest skyline in Texas one-ups Philadelphia by height alone and currently sits comfortably at #8. With 69 structures that meet the standard (9 less than Philly) it has 19 skyscrapers that stand 500+ feet, compared with 11 for Philadelphia. It's most impressive are the Bank of America Plaza, standing 921 feet and brilliantly lit with green argon lights at night, Renaissance Tower at 886 feet, Comerica Bank Tower at 787 feet, JP Morgan Chase Tower at 738 feet, and Fountain Place at 720 feet. Other skyscrapers worthy of a second glance are the Trammell Crow Center at 686 feet, 1700 Pacific at 655 feet, and Thanksgiving Tower at 645 feet. Regardless of its position on this list, Dallas has one of the more dazzling skylines in the nation.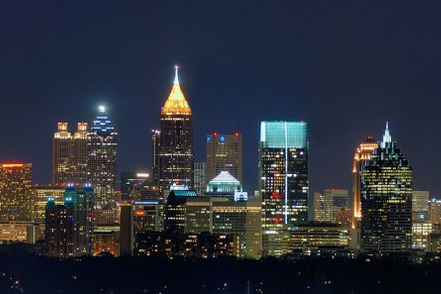 Although its skyline is spread out along the I-75 corridor, making it difficult to view all at once, Atlanta handily tops Dallas. It mimics New York City (albeit on a significantly smaller scale) by having multiple skylines in both downtown and midtown settings. It currently has 85 structures that meet the standard, with 17 of those standing 500+ feet, and boasts the tallest building in the South with its impressive Bank of America Plaza at 1,023 feet. SunTrust Plaza and midtown's One Atlantic Center are its other two most impressive, standing 871 and 820 feet respectively. Other notable skyscrapers are 191 Peachtree Tower at 770 feet, the cylindrical Westin Peachtree Plaza, once the tallest hotel in the world at 723 feet, and the Georgia Pacific Tower at 697 feet. Atlanta truly is the New York City of the South.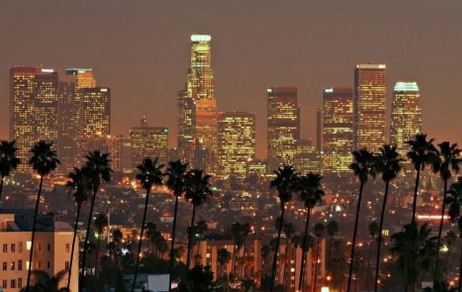 The City of Angels has a massive dense cluster of skyscrapers in downtown that make up the one of the most elegant skylines in the nation. However, it still only registers at #6. It tops its predecessors though through a combination of both quantity and height. It only has 79 structures that meet the standard (5 less than Atlanta) but 22 of those stand 500+ feet and more impressively, 8 of these stand 700+ feet. It also boasts the tallest building west of the Mississippi River in the 1,018 foot US Bank Tower. It's second tallest, Aon Center, stands 858 feet and its 700 footers include Two California Plaza (750), Gas Company Tower (749), Bank of America Plaza (735), 777 Tower (725), Wells Fargo Tower (723), and Figueroa at Wilshire. This equates to a truly amazing west coast skyline that will leave any onlooker in awe.